HGH Products
With the increasing desire to avoid ageing, many people are looking for ways to increase and prolong their youth with Saizen, Norditropin, Humatrope or Genotropin HGH products.
With HGHMed.com HGH products, there is help and hope of prolonging your youthfulness. Our HGH products offer the advantage of avoiding, or even reversing, many symptoms associated with aging such as hair loss, weight gain, a decrease in libido, and so on. There are many types of HGH products, such as injectable HGH, HGH spray, HGH supplements, and homeopathic HGH, and more.
No matter the product, HGH is to be used only as directed and should always be carefully monitored. All HGH products are for the purpose of naturally producing more of your own HGH by stimulating your pituitary gland.
With HGH products, reaching mid-age doesn't have to mean you start to look and feel old. Human Growth Hormone products can help you achieve your goals of staying youthful for longer.
Each Humatrope HGH bottle contains 15 IU (5mg) of biosynthetic human growth hormone (from recombinant DNA), excipients include Glycine, mannitol, bibasic sodium phosphate. Each bottle of diluent contains m-cresol, glycerin and water for injections.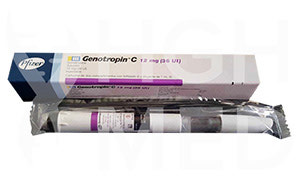 Pfizer Genotropin Human Growth Hormone hgh is one of the best on the market. This is the newest presentation of Pfizer's Genotropin GoQuick HGH 12mg 36 IU & 5.3mg 16 IU Pens. They are called easy inject pens because they're easy to set up and inject.